It is said that if you identify the right talent to associate with, half your job is already done. We have always scouted and identified outstanding creative talent that has collaborated with us wholeheartedly.
Padma Shri Tom Alter was already a well-known film and theatre personality much before we connected for Adabi Cocktail. Being an Anglo-Indian, Tom was a front choice to play English speaking or British characters. Engaging him as the anchor and host of an essentially Urdu language show Adabi Cocktail was a unique experiment. An Englishman playing an anchor, conducting the show in impeccable Urdu and interviewing Indian Film/Literature and Music Industry legends like Naushad, Johny Walker, Jagdeep, Naqsh Lyalpuri, Tuntun, Hasan Kamaal, Rakesh Bedi etc. was deeply appreciated by the audience.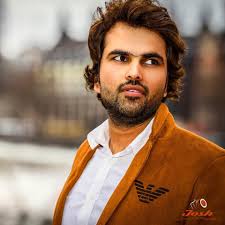 Jazim Sharma was among the top 5 finalists in SAREGAMAPA, 2012. We identified him early and provided him an opportunity to not only sing but write and compose the music of the album titled SUNO TUM'. The album had lyrics by Nida Fazli and vocal introduction by Tom Alter. Suno Tum is one of the finest Ghazal renditions in recent years. Jazim is currently winning tremendous accolades for his composition GUZAR JAYEGA… that is sung by 50 Singers like Sonu Nigam, Shaan etc. and performed by 65 personalities like Amitabh Bachchan and Sania Mirza.
Dr. Mohammed Aleem A visiting faculty of Jamia Milia Islamia. He is also an author, social reformist and winner of many national level awards like Sanskriti Award for Literature, Senior Fellowship Award in literature by Ministry of Culture, National Junior Fellowship Award in Hindi & Urdu literature, Distinguished Alumni Award by Global Jamia Alumni Network, Jamia Millia Islamia, Urdu Academy Award, Navodit Lekhak Puraskar by Hindi Academy, Delhi and All India Drama Competition Award by Urdu Academy. Dr. Mohammed Aleem recreated Valmiki Ramayan in Urdu Language with the play titled Imam-e-Hind, RAM. Adabi Cocktail published the book that was launched by the Governor of Kerala, Arif Mohammed Khan and also has also secured the rights for producing a magnum opus stage presentation based on the play. The play is already in pre-production.