Encourages Free Flowing Voices in Journalism. Operates Region Specific Niche News Portals
Up, Close & Personal with New, Evolving Bihar
Daily Updates, News & Updates Straight from the heart of the State – by and about Bihari's from the fields of Trade, Politics, Bhojiwood, Sports etc.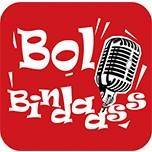 Whether an Amateur with an opinion or a Master Class with a view, Speak Your Mind without barriers at Bol Bindaass on range of domestic and international issues.
Bol Bindaas is a serious attempt at reviving lighthearted humor in Politics and Media. At a time when politicians and media professionals seem to be at each other's throats, at Bol Bindaas we provide an opportunity to everyone to Blog or Vlog their cheerful take on current affairs.